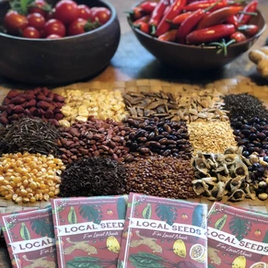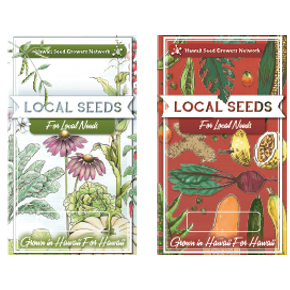 Hawai'i Seed Growers
Address: 15-4166 Pu'uwai Road Pahoa, HI, 96778
About Us
The Hawai'i Seed Growers Network is a statewide group of artisanal farmers that have worked together for the past 5 years to grow, develop, and bring high-quality, locally grown, and adapted seeds to Hawaii's gardeners and market farmers. We choose to grow our seed crops on a small scale in order to maintain close connections with our seeds. We carefully observe, select, and harvest from only the best plants to ensure your gardening success. Each year we will be adding additional varieties to our online seed store. All seeds have been properly dried, tested for germination, and stored to ensure viability.

Hawaii's many microclimates create a diversity of unique requirements for our farmers and gardeners. Seeds sourced from temperate areas are adapted to and selected for environmental conditions and requirements which are very different than what growers experience in subtropical regions. Our network of seed growers has been working together since 2010 to identify resilient varieties, grow and adapt them to our environments, and the earth-friendly, agroecological, low-input, sustainable farming and gardening systems that we use.

Our network developed as a result of the work initiated in 2011 by the Hawaii Public Seed Initiative (a Program of The Kohala Center). Over the past years, we have identified crop varieties that have performed well in our specific regions. By saving the best seed from these varieties and sharing within our network to re-grow, we are able to evaluate varietal performance in our diverse microclimates. Local adaptation is an ongoing process that takes several generations of growing and selecting for desired agricultural and culinary characteristics. As we continue this work, we will offer additional select varieties to improve the success of your growing endeavors.
Practices
Our NON-GMO, open-pollinated, Landrace seeds are grown in earth-friendly, agroecological, low-input, sustainable farming and gardening systems. A Landrace variety is a regional ecotype, locally adapted and corresponds to a domesticated species that has developed over time, through adaptation to its cultural environment of agriculture