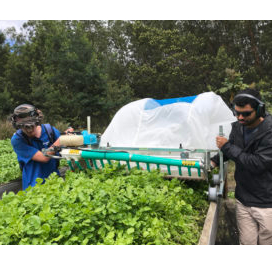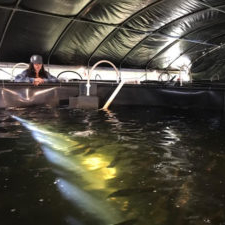 Kulahaven Farms
Contact: John Dobovan
Address: PO Box 901301 Kula, HI, 96790
Email Address: jd@kulahavenfarms.com
Phone: 808-955-0955
About Us
Why Trout & Watercress?

Watercress is one of the most nutrient-dense of all green leafy vegetables and one of only four that scores a perfect 1000.00 on the Aggregate Nutrient Density Index (ANDI). It is rich in vitamins, minerals and anti-oxidants. It has been considered a medicinal herb for thousands of years. Current research has shown that watercress may be helpful in fighting at least 4 forms of cancer: breast, lung, colorectal and prostate cancer. It is also thought to neutralize some of the carcinogens found in tobacco smoke.

Find out more at www.kulahavenfarms.com - home of Maui Watercress Co. and Maui Trout Co.

Photo caption:
Founder John Dobovan and Science Officer Aimee Greenwood are out standing in their field.

Practices
Our certified organic premium watercress is grown in a recirculating aquaponic system. Our water is triple filtered and sterilized with ozone for at least 5 minutes before it reaches the watercress crop. Our grow beds are elevated 3 feet off the ground and protected by 4" copper bands to exclude slugs and snails.

Our Rainbow Trout are the first to be grown in Hawaii in a commercial aquaponic system. They're not only delicious, they're also very healthy. Rainbow trout are high in Omega-3 fatty acids and have the highest rating on the Montery Seafood Watch. Just 3 ounces contain 21 grams of protein and twice the WHO recommended daily dose of Omega-3.