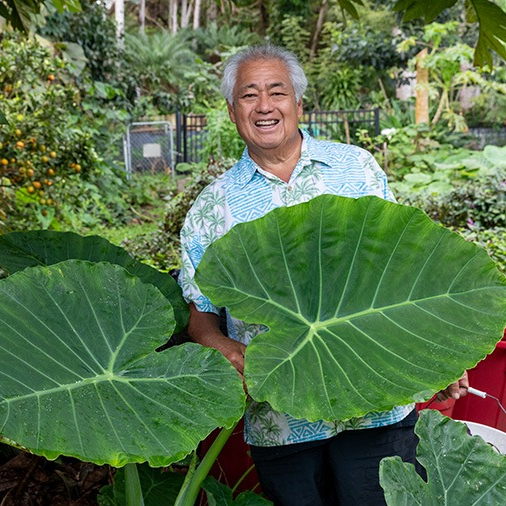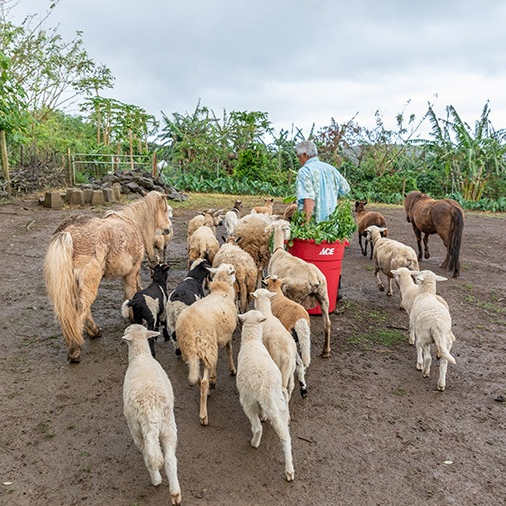 Kahumoku Family Farms
Contact: George Kahumoku
Address: PO Box 12804 Lahaina, HI, 96761
Phone: 808-280-9948
About Us
George Kahumoku Jr is a multi-Grammy Award-Winning Hawaiian Slack-key Guitar Master & Performer who lives & farms at The Cliffs of Kahakuloa on Maui.
He is originally from South Kona Kealia on the big Island & Headed Kealia Farms where he raised Coffee, ti leaf, Avocados, Mac nuts, guava, mangoes, alfalfa hay, Hawaiian Herbs & Teas, cattle, and pigs. He helped develop the Big Island Pig Deep Litter system and was Rudolf Steiner Biodynamic Certified in the Early 1980s.

His goal has always been to feed people & be sustainable. He was raised by his great grandfather Willy Kahumoku in the traditional indigenous Native Hawaiian Method of Mala or dry land style of farming using animals & fowl in an integrated sustainable system. He is a Native Hawaiian Practitioner & the plants, herbs, animals, food that he grows, shares and sells, is grown with Aloha.

Practices
He currently uses Natural Farming Indigenous Native Hawaiian planting methods influenced by the Hawaiian Moon Calendar, with lots of composting, cardboard, manure & mulch. George also mentors students and shares seeds & his mana'o with over 200 farms in Hawaii & across the globe.
Come visit his farm. Call, text, or email first.